What You Should and Shouldn't Do After Your Home or Office Has Fire Damage
Posted on: Thursday July 12, 2018 at 11:45 AM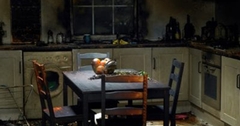 Cleaning up after a fire is an overwhelming task that requires chemicals and neutralizers that are not available for the general public. However, there are some things you can do to help eliminate the odor of smoke from a fire and get your home ready to receive professional help. There is also somethings that you SHOULD NOT do…
What You SHOULD NOT DO…
DO NOT wash soft goods or textiles; many times this can set the odor and deem the object non-salvageable
DO NOT run one's fingers across the surface to detect soot; by doing so one has now effectively rendered that wall non-salvageable with a perfectly innocent distribution of body oil
DO NOT walk on carpeted area if possible; It is a long shot but can sometimes be salvaged
DO NOT try to save food
DO NOT try to save children's toys (or any items that could cause ingestion of contaminants)
What you SHOULD DO…
DO turn off the HVAC IF it is practical (not too hot and not too cold); i.e. turning off the heat following a fire during the winter months can cause more damage but causing pipes to burst
DO gather up a small suitcase of clothing (IF POSSIBLE) to take with you should you have to be out of the home a few days before an on-site adjuster can visit the site
DO use a new toothbrush if possible (or any other items that could lead to ingestion of contaminants)
DO CAREFULLY try to capture the scene and take photos of items in particular that are of sentimental value and are suspected to be damaged. This is assuming that someone is still able to remain in the home until help arrives.
DO be prepared to remove ALL valuable items from the home such as firearms, jewelry, etc; YES these can be professionally cleaned but special arrangements will need to be made at a later stage in the process.
A good restoration service can provide, or arrange to be provided, many emergency items necessary for you and your family immediately following a fire loss.
Above are just a few of the quick-tip items that can assist you and your family in getting back to normal. They may seem small but go a very long way in starting the project off on solid ground.
Complete Odor Removal
In most cases, companies like 1ST Call Disaster Services are needed to permanently remove the after effects of a fire. Commercial grade neutralizing products, odor counteractants and techniques will eliminate stubborn and offensive odors. The longer the source is left intact, the worse the odor will become and the more difficult the removal will be. It is imperative to attack the damage as quickly as possible!
Ash and soot are a major cause of odor. If ash and soot residue are left for days it allows the odor to creep into impenetrable places such as between floorboards and behind drywall. Additionally, fires create high pressure in a structure and force smoke into ANY crevice that is exposed (between cabinets, in door jambs between rooms where the door was closed etc) This makes an intense cleaning even more extensive and far reaching. The odor will leave much quicker and be less expensive if tackled immediately and as aggressively as possible.
Other Typical Areas of Service to be Addressed Surrounding a Fire Loss
Emergency board-up/tarp up
Demolition
Structural dry down
Metal surface mitigation
Structure cleaning
Utility Management
Smoke and odor source removal
Debris removal
Contents restoration
Full pack-out/move-out of contents for cleaning, deodorization and restoration
A good restoration company can make sure a fire damage restoration is done right and that you're out of pocket damage liability is kept to a minimum. We've helped numerous home and business owners and they and their insurance company always appreciate our surgical approach to restoration!