Cincinnati Mold Remediation
You can be confident 1st Call Disaster Services is highly trained and experienced in mold remediation and removal.
Mold remediation in the Cincinnati and Northern Kentucky area is one of the most misunderstood maladies a home or business owner can face. Despite the fact mold has been around forever, it has only recently become the focal point of increased claims and litigation, as well as a degree of media sensationalism and consumer angst. You can be confident 1st Call Disaster Services is highly trained and experienced in mold remediation and removal.
We specialize in the following mold remediation and removal services:
Containment and removal of affected materials
Engineered HEPA controls
Site preparation and proper drying for replacement of affected material
Professional deodorization
When you've experienced mold or mold damage in your home or business, rely on our 24-hour response and proven techniques. 1st Call is your first and best choice for providing competent, genuine, and professional mold remediation and damage restoration. Contact us today for a prompt and courteous solution.
Recent Construction Techniques Have Increased Our Exposure to Mold
Construction techniques have changed dramatically over the last few years, and structures are now sealed tighter to prevent energy loss. This new process, in turn, reduces air movement within those structures and increases the risk of mold growth due to stagnant air and trapped moisture.
Property owners, rental property owners and real estate management companies are exposed to the risks of mold more than ever.
The result is property owners may face increased exposure to a health risk that was relatively insignificant in the past. Rental property owners and real estate management companies also have greater liability risks from tenants who may be affected by mold growing in a home. Business owners are left exposed to potential claims by customers and employees. Call 1st Call Disaster Services today if you suspect mold in your property. We provide services to Covington, Erlanger, Florence, Fort Thomas, Independence, Newport, and the areas in and around Northern Kentucky and Cincinnati, OH.
Mold Remediation is an Unregulated Industry, so be Careful when Selecting a Mold Remediation Company
Compounding the problem is that mold remediation is an entirely unregulated industry; there are no mandated standards of care from any governmental agency. Property owners who are uneducated in the proper way to remediate mold have no way to ensure the job was done correctly. While there are no mandated standards of care for the mold remediation industry, government agencies and trade groups have published guidelines for proper remediation procedures. Reputable firms like 1st Call Disaster Services will follow these standards of care to assure your safety. We encourage you to educate yourself on the remediation process.
Mold Remediation Procedures
When performed correctly – and 1st Call Disaster Services will do it right – the remediation of any significant amount of mold is a four-step process.
An independent, third-party Indoor Environmental Professional (IEP) should perform the initial testing and write a remediation protocol (scope of specific work to be executed).
A properly trained and certified remediation contractor will perform the remediation according to the guidelines outlined in the IEP's protocol.
The IEP should perform a post-remediation evaluation to ensure satisfactory remediation. This evaluation effectively assures both the contractor and the home/business owner fully addressed the condition.
The affected area can now be reinhabited, reconstructed, or sold without concern.
How to Choose a Mold Remediation Contractor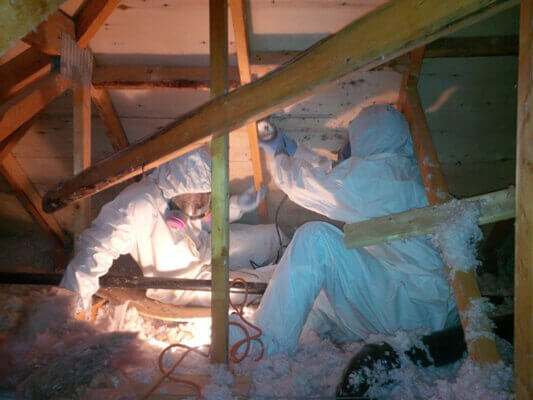 Always retain the services of an independent IEP. It is a conflict of interest for any remediation company to perform the initial mold inspection. The company should not be allowed to tell you that you have mold, perform the remediation, and then tell you the job was done correctly. It is essential to obtain unbiased information when having a post-remediation evaluation performed. An IEP works for YOU, not the remediation contractor, and will provide you with unbiased scientific proof the remediation company wholly and correctly resolved the problem. Mold spores are often too small to be seen with the naked eye. A good remediation contractor like 1st Call Disaster Services knows this. We require an IEP to be used to ensure they have performed their duties satisfactorily and that your house is safe. An independent IEP will perform a post-remediation evaluation at a minimum for mold projects regardless of whether or not a protocol is deemed appropriate.
The goal of mold remediation is not to kill the mold; it is to REMOVE the mold. Many companies will tell you their chemicals will kill or encapsulate the mold. Chemicals do not remove the mold spores, and it inadequately addresses the issue as per published guidelines. The only recommended way to remove the potentially harmful effects of mold is to remove the mold by following the S520 Standards – air filtration, HEPA vacuuming, wiping/cleaning, sanding, and, if necessary, soda or dry ice blasting. Experienced in expertly removing mold from homes and businesses, 1st Call Disaster Services should be your first call if you suspect the presence of mold.
1st Call Disaster Services Does NOT Pursue Frivolous Mold Issues
The guidelines state homeowners or building maintenance personnel can perform smaller mold remediation projects. See EPA Guidelines for reference. 1st Call Disaster Services will recommend the appropriate procedures to follow if a minimal area has been impacted and can be adequately cleaned by YOU. You will incur only a small inspection fee if an on-site visit is required or requested. 1st Call does NOT perform mold testing. We recommend an evaluation by an independent IEP for a proper and thorough examination. Utilizing the small kits available to the general populace is NOT recommended and will not be accepted as a post-remediation evaluation test.
Call 1st Call now for certified professional mold remediation and damage reconstruction services!
Click to Call Now
Frequently Asked Questions About Mold
Anytime the moisture levels in your home are at 60% or higher, mold can grow. What's frustrating for many property owners is that they don't see a puddle on the floor or water dripping from the ceiling. When mold grows, the source of the moisture is usually hidden under floorboards or behind walls.
It could be. Because mold spores are microscopic and airborne, you'll end up breathing them into your lungs. Depending on the type of mold and how well your immune system functions, you may develop some serious health symptoms that could result from mold. That's why 1st Call Disaster Services takes mold removal so seriously. The space affected by mold is isolated and contained during cleaning so that the spores won't spread to other areas of the house. The remediation team stays suited up in Personal Protective Equipment (PPE) during the process.
For most surfaces in your home, bleach won't actually get rid of your mold problem. It's the "iceberg effect." Visible mold is usually a small percentage of the actual amount of mold growth. Bleach can't kill mold on porous surfaces like wood; and while tile or fiberglass surfaces can be cleaned with bleach, often the mold has spread far deeper. The reason why mold remediation companies don't recommend DIY cleanup isn't because they want to make more money; they know, in their experience, that a mold problem is usually far more invasive than can be seen with the naked eye. Simply cleaning the surfaces can provide false assurances that you got rid of the mold, only to have it come back time and time again.
Sometimes mold remediation is included if the cause of the mold was a "covered peril" like a burst water heater or water damage caused by firefighters extinguishing a fire in your house. Gradual water damage - like a leaking pipe or hose - will often cause mold growth, but your insurance coverage will usually not cover that by claiming that it was caused by poor maintenance or neglect. If your insurance company denies your claim, you should request an inspection from 1st Call Disaster Services, who can help you document the source of the mold.
If the inspection/assessment process was able to pinpoint the source and cause of the mold growth, once that source is repaired, you can be relatively confident about the success of remediation. Ask if your restoration technician has the IICRC certification for "Applied Microbial Remediation." You can also request a "post-remediation mold clearance" from a third-party mold inspector to re-test the area for any remaining traces of mold before the area is treated with a sealer or encapsulant to resist future mold growth.
Certified Mold Remediation
24/7 Emergency Service
IICRC Certified Firm
Fully Licensed, Bonded and Insured
Over 30 Years of Experience
Award-Winning Service
Request a Quote
Proudly Serving the Greater Cincinnati Tri-State Area
1st Call Disaster Services, located in Northern Kentucky, is locally owned and operated by Shane Heilman. We have the skills and equipment to handle any size restoration project, and we take pride in providing our community with the highest level of customer service.
Alexandria, KY
Bellevue, KY
Cincinnati, OH
Covington, KY
Dayton, KY
Edgewood, KY
Elizabethtown, KY
Erlanger, KY
Florence, KY
Fort Thomas, KY
Frankfort, KY
Independence, KY
Lexington, KY
Louisville, KY
Madison, IN
Newport, KY
Oakbrook, KY
Owensboro, KY
Union, KY
Walton, KY
We serve a two-hour circle around downtown Cincinnati!