Three Types of Water and How They're Treated Following Water Damage
Posted on: Thursday October 26, 2023 at 12:52 PM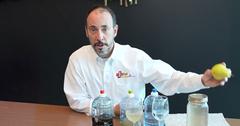 Water damage is always inconvenient for homeowners, but not all water damage is created equal. In fact, there are three distinct water damage categories corresponding to the type of water that caused the issue. Correctly identifying the water involved in the incident is a crucial step to creating an effective extraction and restoration plan.
Many DIYers may be surprised to learn that each type of water damage requires a specific solution. Taking a one-size-fits-all approach may even lead to additional damage in the future. This post will briefly cover the three water damage categories and explain how they impact the treatment plan moving forward.
Clean Water Damage
The first category of water damage – and the least severe – is clean water damage. This category includes water damage that results from broken pipes, overflowing sinks or bathtubs, and issues with household appliances. The reason it's considered less severe than other water damage issues because the water isn't toxic to humans.
In most cases, clean water damage is relatively easy to remedy compared to the others on this list. A professional water extraction service can help quickly dry your home and help you get back to your daily life.
Grey Water Damage
The second category of water damage is "grey water." This type of water is generally unsafe for human consumption and comes from appliances, including toilets, sump pump backups, and washing machines.
If grey water damage occurs in your home, disinfecting the impacted areas is a priority once the area is dry. In many cases, waste or chemicals present in this type of water can be detrimental to both your home and your health if not properly removed. In all cases of greywater damage, it's essential to use a licensed and experienced company to fix the problem.
Black Water Damage
The third category of water damage is black water. This type of water, which includes sewage, flooding from the outdoors, river water, or groundwater, is hazardous to human and animal health, and homeowners must act quickly to reduce the risk of severe health outcomes.
Any time a home sustains black water damage, it's necessary to remove everything from the affected space. A thorough disinfection process will then need to take place before the house is deemed safe for occupants.
Trust 1st Call Disaster Services to Restore Your Property After Water Damage
If your home has sustained water damage, don't make the problem worse by trying to fix it yourself. The experts at 1st Call Disaster Services have the experience, technology, and techniques to repair water- damaged areas quickly and effectively.
If you've experienced water damage of ANY kind for your COMMERCIAL or RESIDENTIAL property and need immediate help, call our 24/7 response line at (812) 220-3385 . Take the proper precautions by reviewing our list of Water Emergency To-Dos and minimize the damage as much as possible.