Roof Tarps and/or Board-ups Are a Quick Temporary Fix When You Have Roof Damage
Posted on: Tuesday January 31, 2017 at 3:29 PM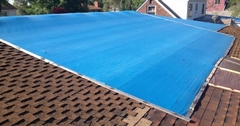 NOTE: Even the best installed roof tarps are fallible and temporary. In fact, in situations where high winds persists it is entirely possible that the tarp will have to be re-established to continue keeping water out of the home/business. Moreover, they will never be a 100% solution for any length of time and should be constantly monitored for compromise.
Roofs can easily be damaged from heavy storms, winds, tree branches, hail and improper installation. If any of these events or combination thereof happen to you and there is a need for a temporary solution, a roof tarp is a great option and is often the only option until the damage can be fully assessed. Also keep in mind that water damage can occur inside the home or business during the event.
Purpose of Tarping or Boarding-up a Roof
Cover and protect any damaged area to your roof.
Keep rodents and other unwanted guests from entering your home or business.
Protect your roof from further damage from heavy storms or winds.
Prevent further damage while waiting upon a roofer or the insurance adjuster.
However, and as duly noted roof tarps and board-ups are ONLY a temporary solution. Roof tarps and/or board-ups are not recommended as a permanent fix to a damaged roof. Tarps will have a shorter lifespan than that of a board-up and should be remedied as quickly as possible with a permanent solution. Board-ups, on the other hand, can last longer but are still considered temporary in nature.
Risk Associated With Longterm Use of Temporary Roofing…
Mold growth can begin to occur due to the fact that temporary roofing methods are not 100% waterPROOF – think of them as water RESISTANT instead.
Tarps, in particular, are particularly prone to coming loose as winds persist or recur.
Due to the lack of the being waterproof or insulated, heat loss is promised which compromises the warmth of the home. Higher electric bills can occur.
Purely speculative but it has occurred in our experience: The tarp isn't appealing to the eye. This may cause your neighbors to complain over time.
If not installed or installed for a lengthy period of time, tarps can accumulate pools of water. When this occurs, tarps are prone to rupture and cause much more damage
A good restoration company can make sure your restoration is done right and that you're out of pocket damage liability is kept to a minimum. We've helped numerous home and business owners and they and their insurance company always appreciate our surgical approach to restoration!