Fire Damage Tips – Your Role and What to Expect From Your Fire Department, Insurance Adjuster, and Restoration Company After a Fire
Posted on: Wednesday April 3, 2019 at 12:28 PM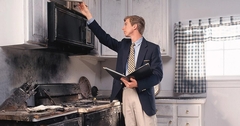 One of the most stressful situations that people could ever go through is a home fire. The stress and disappointment from losing a home and possessions to a fire is traumatic and overwhelming. However, taking action and notifying a restoration company should take place as soon as possible. Even though the fire has been extinguished, the acid-like nature of soot is causing on-going damage along with any water that was used to put out the blaze. A good restoration company can assist you in handling the insurance claim process which can be very cumbersome and confusing. Any fire damage restoration can be a lengthy process even for small grease fires. The following are some of things that will and should happen after a home fire…
The Fire Department Will Handle All Safety Concerns and Contact All Authorities
The fire department will most often take care of getting the power shut down on the property to make the site safer. In some instances, the water company will also be contacted by the fire department to shut the water down.
Know / Contact Your Insurance Providers
The property owner will need to know their insurance providers and call them. They restoration company will also need to have this information so they can set up temporary services during the mitigation process.
No Insurance Company Can Make You Choose One Restoration Company Over Another
Most insurance companies will try to get homeowners to use their select vendors to fix the property. In many cases, this can be beneficial but know that you have the right to choose any restoration company that you trust. Don't let them strong arm you! All restoration companies use very similar project estimating software that give pricing that has been adjusted for market conditions and competitive pricing. All restoration companies are also required to offer industry standard warranties. Knowing this don't allow your Insurance Company to persuade you to use one company over the other.
Picking a Good Restoration Team is Crucial
A fire creates smoke, odor and soot accumulation that can quickly render homes and businesses uninhabitable. A restoration team should be fully certified in treating for the effects of smoke, heat and residues caused by fire. By beginning the mitigation process as soon as possible, a restoration service can prevent further damage and return your property to a pre-loss condition as quickly as possible. Good restoration companies are often able to save a property that would otherwise need to be replaced.
Your Insurance Policy Dictates That You "Mitigate the Loss as Quickly as Possible."
Estimates are NOT required contrary to popular belief. Insurance agents often instruct individuals to get estimates prior to letting work begin but your insurance policy dictates that you are to "mitigate the loss as quickly as possible." In fact, if you don't there is a chance for the insurance company to deny the claim. All estimates and scopes ARE reviewed by the insurance company prior to any funds being released, but final pricing is largely determined by the insurance company itself and agreements are generally reached easily once the work is in progress.
Initial Estimates Can Change Quickly, Especially With Fire Losses
Fire losses are much like an onion – many times, all is not known until the work begins and layers of structure are removed. Scope will often change dramatically during the process depending upon what is finally discovered.
What The Insurance Adjuster's Job Entails…
The insurance adjuster will begin the assessment by trying to understand the integrity of the structure first as safely entering the building/home is critical to further inspection. Other first steps will be securing and weather proofing the structure with board-ups and/or tarping. These are considered emergency services. The goal of the adjuster is to set what insurance companies refer to as "reserves." This is a legal requirement they must fulfill. However, this is largely a ballpark estimate and is subject to change for reasons mentioned above.
Figuring Out the Structural Damage
Be aware that homes with structural damage can be rebuilt even if there is a damaged roof, wall, doors and windows. This will be the initial goal of the restoration company and the insurance company. It is remarkable what fire can do but moreover, how well a property can recover from the damages due to fire. If it is determined that the home is a total loss please understand that good restoration company can fully salvage and restore a multitude of seemingly lost contents. Technology has advanced methods and things that were once considered lost can now be completely restored. But time is of the essence when dealing with any of your contents! Keep in mind that safely entering the premises will take precedence over any and all salvage activity.
Examining The Contents Of Your Home
A good restoration contractor will inventory and photograph all of your home's contents. In some instances you will be consulted on the final list to assist in its valuation. There are generally 3 categories… Salvageable, Non-Salvageable, and Gray Area. The gray area category generally refers to contents that are cleanable, but have suffered irreparable damage. Unfortunately most often these are items of sentimental value.
A Good Restoration Company Should…
Provide care and compassion in addressing the people involved as well as the property
Board up/Tarp up services
Implement the fire damage restoration
Handle the structure cleaning
Remove smoke and odor
Restore the contents of the home as best as possible
Pack-out/move-out all contents for heavy cleaning
Store the contents
A good restoration company can make sure a fire damage restoration is done right and that you're out of pocket damage liability is kept to a minimum. We've helped numerous home and business owners and they and their insurance company always appreciate our surgical approach to restoration!