All About Mold Series – #2 Detecting and Removing Mold. Can Mold Make Me Sick?
Posted on: Monday April 17, 2017 at 3:33 PM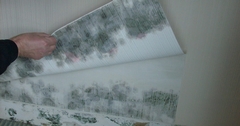 FIRST: ONLY a qualified physician can accurately discern the cause of one's illness. Mold or certain types of mold MAY be the sole factor, a contributing factor or no factor at all. This is when the TYPE of mold becomes a relevant issue. Otherwise, the goal is to capture mold spores and take them out of the home or business. KILLING mold is NOT the objective of any remediation project. Therefore, the use of bleach is NOT the answer – it is a myth.
Approximately 38 million Americans suffer from sinusitis. Sinusitis is inflammation of the paranasal sinuses. Many of these cases can be contributed to mold in your home. Black mold is less common, but if it is OBSERVED, it can contain serious toxins that can lead to life-threatening health issues. PLEASE NOTE: NOT all black molds are toxic!
Black Mold Addressed
Black mold thrives in areas with water leakage as well as areas with high humidity as does any mold. Moreover, black mold is often an indicator or a long term elevated moisture issue.
Signs of elevated moisture issues may include…
Cracked, peeling paint
Discoloration of warping of walls, ceilings, and floors.
Mildew/Musty odors
Loosened drywall tape
Softened building materials
Visible mold growth
Mold Health Hazards
If mold isn't treated it has the potential to lead to the following health issues…
Respiratory problems
Asthma and bronchitis
Lung tissue damage
Suppressed immune system
Eye, nose, throat, and skin irritation
Headaches and dizziness
Body aches and pains
Memory impairment
Irritable bowel syndrome
Food intolerance and allergies
Fatality
What To Do If You Find Mold
Before allowing your home or business to make it's inhabitants sick, you should contact a full service mold removal company that is fully insured and follows the S520 standards for remediation.
1st Call Disaster Services specializes in eliminating mold issues and providing preventative measures to address areas of moisture intrusion.
A good restoration company can make sure a mold remediation is done right and that you're out of pocket damage liability is kept to a minimum. We've helped numerous home and business owners and they and their insurance company always appreciate our surgical approach to restoration!
All About Mold Series