5 Tips for Choosing the Right Company To Clean Up Sewage Damage
Posted on: Thursday September 28, 2017 at 10:18 AM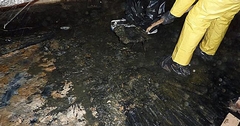 You may think you will never need assistance from sewage removal services, but no one ever knows when disaster will strike. When checking for sewage disposal in our area you will find an abundance of information, be careful of false promises and best guarantees. Call several companies for comparison and consider the following factors.
Reliability
It's important that you can rely on a company and that they actually service you needs on a timely schedule. That may mean they arrive on time as scheduled and communicate with you regarding sewage or waste removal and disposal. It's important that you can rely on them to keep your home, family, or business safe from health issues.
Consider the Environment
We are all aware of our environment and want to use environmentally friendly services. When selecting a sewage disposal company the same issues apply, check to see that they promote clean and eco-friendly processes.
Customer Service is Important
Often there are problems that you are not able to identify on your own. Look for a company that can help you find the problem and solve your issues. An experienced representative will inquire about the problem and offer solutions to the trouble.
Is There a Need for Additional Services
Check for a sewage disposal service that not only disposes of sewage and waste but also offers assistance with clean up. Ask about other services the company offers, it can help with the stress and energy you may feel when an emergency occurs. By asking questions first you can efficiently restore you home or office waste problems more quickly and save you time.
Getting the Best Value
Remember the lowest bid isn't always the best bid. Search and ask several different companies for advice and prices. Check to see what services the company is offering, are they eco-friendly, do they provide clean up, check their guarantee and don't forget how important customer service is. While price is certainly a very important consideration, always remember to communicate your expectations with the company you choose.
Don't get stressed out when looking for sewage removal service. Do your homework and find the company that offers the qualities you need for your issues without involving too much of your time and effort.
A good restoration company can make sure your water and sewage damage is fixed right and that you're out of pocket damage liability is kept to a minimum. We've helped numerous home and business owners and they and their insurance company always appreciate our surgical approach to restoration!