3 Reasons Why We'll Never Ask You to Waive an Insurance Deductible
Posted on: Thursday October 26, 2023 at 11:04 AM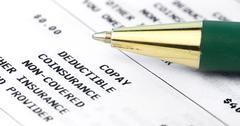 A high deductible can be intimidating when working with an insurance company during the home repair process. Predatory contractors recognize you'd rather avoid paying this high-dollar figure out-of-pocket and may try to convince you that waiving your deductible is in your best interest. Unfortunately, that is not the reality.
Although a contractor's recommendation to waive your deductible might seem like a good way to save on repairs, it could fall into the "insurance fraud" category, legally speaking. This article will cover three reasons why 1st Call Disaster will never ask you to waive your insurance deductible.
1. It's Unethical (at best) and Potentially Illegal
Generally, the practice of waiving deductibles during insurance claims stands on shaky legal and ethical grounds. In the past, insurance companies handled settlements differently: homeowners received a lump sum for the required amount and subtracted the deductible. Today, insurance companies typically incorporate Replacement Cost Value (RCV) provisions.
In many states, waiving deductibles is illegal, and businesses engaging in this practice may be subject to fines, license suspension, or worse. Ohio, Kentucky, and Indiana for example, outlaw the practice of waiving insurance deductibles with very few exceptions.
2. It's Intentionally Deceptive
Per the National Association of Insurance Commissioners, the law prohibits contractors or policyholders from waiving deductibles. Insurance claims have a specific set of rules (outlined in the policy), and any deviation is a manipulation of the terms. If both parties don't follow the protocol, the deceptive tactics are considered fraudulent.
The reason why it's in the interest of contractors to have you waive your deductible is simple: it allows them to manipulate the insurance claim system. In some cases, they may overreport the repair costs; in other situations, they may cut corners during the repair through quick, shoddy work and low-quality materials.
3. It Breaches the Contract Between the Insurance Company and Policyholder
When policyholders and contractors decide to waive a deductible, they are no longer adhering to the terms of the original insurance policy, resulting in a breach of contract. Insurance companies are notorious for digging into the fine print of a policy contract. When thousands of dollars – if not much more – are at stake, the details become even more critical.
When a homeowner and a contractor agree to waive a deductible, it amounts to collusion involving falsified claims to insurance and mortgage companies. In many cases, the homeowner is completely unaware that their actions could be illegal. This practice has already become a significant problem in the roofing industry but extends to contractors of all types.
Choose the Disaster Repair Service You Can Trust
At 1st Call Disaster Services, we understand the physical, emotional, and financial stress you're experiencing in the wake of an event that causes significant damage to your home. We are committed to doing everything we can to restore your home and your daily life to its original state.
When you need professional restoration help for your home following smoke damage, water damage, mold and asbestos issues, roof damage, or a biohazard event, we're here to make the process as easy and affordable as possible. We offer financing options and work with you to find a payment plan that works with your budget. To request a consultation, speak to a 1st Call Disaster Services expert by calling (812) 220-3385 or schedule an appointment online.