1st Call Disaster Services Has Earned the Home Service Industry's Coveted Angie's List Super Service Award!
Posted on: Thursday April 13, 2017 at 2:10 PM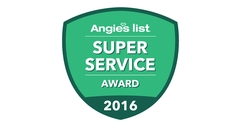 The Angie's List Super Service Award reflects that 1st Call Disaster Services has held a consistently high level of customer service over the years.
"Companies that can meet higher demands without missing a beat in their exemplary performance standards truly do stand apart from their peers," said Angie's List Founder Angie Hicks. "Only a fraction of the Restoration Service companies in Greater Cincinnati were able to do it."
What 1st Call Had to Do To Get the Award
Angie's List Super Service Award 2016 winners have met strict eligibility requirements, which include an "A" rating in overall grade, recent grade, and review period grade. The SSA winners must also be in good standing with Angie's List, pass a background check and abide by Angie's List operational guidelines. 1st Call Disaster Services has earned the home service industry's coveted Angie's List Super Service Award, reflecting an exemplary year of customer service to members of the local services marketplace and consumer review site in 2016.
A good restoration company can make sure your restoration and cleanup is done right and that you're out of pocket damage liability is kept to a minimum. We've helped numerous home and business owners and they and their insurance company always appreciate our surgical approach to restoration!