1st Call Disaster Helps a Local Homeowner With Water Damage To His Basement After His Sump Pump Failed…
Posted on: Thursday May 3, 2018 at 11:10 AM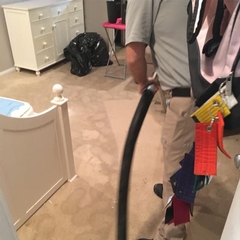 The Situation
John Wetzel's basement flooded due to a sump pump failure.
How We Helped
1st Call Disaster Services arrived on-site within an hour of the customer contacting us. After our technicians make sure the sump pump was repaired, we immediately began extracting the water, removing building materials that couldn't be saved, and placing the necessary equipment for the dry out. 1st Call Disaster Services then monitored the moisture levels of the affected building materials until they had met our drying goals.
Water Damage? 1st Call Can Help!
Water damage can happen to anyone at any time. From floods to storms to faulty plumbing or appliances, unwanted water is one of the greatest threats to your property. Quick response is the key to saving money, preventing costly repairs or mold concerns. Take comfort in knowing that whenever disaster strikes, 1st Call Disaster Services has the experience, advanced technology/techniques and resources to quickly restore your property and get your life back on track.
1st Call Disaster Services specializes in advanced drying and dehumidification techniques using our surgical approach, which rapidly removes water and moisture from carpets, floors and walls. This system eliminates the threat of dangerous mold and pathogen growth, thus saving property owners and insurance companies valuable time and money. More advanced techniques are utilized when measures beyond the typical are called for. For example, 1st Call Disaster Services saves many hardwood-flooring components simply by quickly responding and utilizing specialized drying equipment specifically for hardwood floors and other exotic surfaces.
We specialize in the following services:
Water extraction
Flood Damage
Dehumidification and structural drying
Deodorizing and disinfecting
Contents cleaning & dry-down
Removal of soiling on multiple surfaces
Media and document recovery
Fine art restoration
Electronics equipment restoration
A good restoration company can make sure your water or wind or fire damage is fixed right and that you're out of pocket damage liability is kept to a minimum. We've helped numerous home and business owners and they and their insurance company always appreciate our surgical approach to restoration!