Who Should I Call After Fire, Water, or Wind Damage? Learn the Differences Between a Restoration Contractor and General Contractor.
Posted on: Thursday June 28, 2018 at 11:32 AM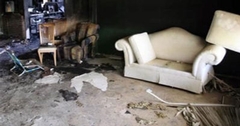 There are fundamental differences between an emergency restoration contractor and a general contractor. The following are 3 major reasons to use an emergency restoration specialist over a general contractor when you have emergency damage to your home…
Emergency Restoration is Much Different than New Construction or Remodeling
Most general contractors focus on new construction and remodeling and don't have the necessary dexterity, knowledge, skills, or tools to handle an emergency situation.
The Goals of a Emergency Restoration and Normal Construction Are Much Different
In an emergency disaster situation, the goal is to save as much of the building and its contents as possible to mitigate your loss. Emergency restoration contractors have air movers, dehumidifiers, moisture meters, infrared cameras, and other equipment at the ready to address the damaged areas quickly and expertly. Fixing the damage quickly and comprehensively will prevent future problems arising from the damage like mold or hidden structural damage.
Emergency Restoration Companies Are Familiar with Insurance Companies
You need a company who knows what to fix and how to fix it in a way that your insurance company will pay for it! Emergency Restoration Companies have vast experience and relationships with the different insurance companies and their representatives in your area and understand the claims process upside and down. Restoration professionals also use the same estimating software as the adjusters so your claims will be paid quicker and more accurately.
Who Would You Call if You Had an Emergency Disaster Tomorrow?
Having a relationship with an emergency restoration contractor in place before a loss will make sure your home or business is back online quicker which will save you time, money, and aggravation! Who will you call?
A good restoration company can make sure your water or wind or fire damage is fixed right and that you're out of pocket damage liability is kept to a minimum. We've helped numerous home and business owners and they and their insurance company always appreciate our surgical approach to restoration!