When a 5 Star Restaurant in Downtown Cincinnati Has a Fire, They Know to Call 1st Call Disaster Services To Get Them Back Open ASAP!
Posted on: Thursday March 23, 2017 at 1:12 PM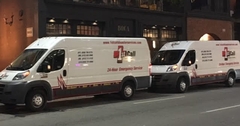 The Situation
On December 2, 2016, there was a fire at Boca 5 Star Restaurant on 114 E 6th Street, Cincinnati, Ohio.
Our Role
1st Call Disaster Services was called to the scene to provide emergency services for water damage, cleaning, and smoke odor removal due to a wood stove fire atop the 5 star restaurant Boca owned by Mr. David Falk.
The Results
Within 24 hours Boca prepares to reopen their luxurious downtown location to faithful patrons.
A good restoration company can make sure the job is done right and that you're out of pocket damage liability is kept to a minimum. We've helped numerous home and business owners and they and their insurance company always appreciate our surgical approach to restoration!