How to Clean Your House After a Flood
Posted on: Friday December 29, 2017 at 11:02 AM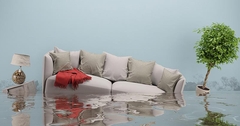 Basement flooding can be dangerous and can cause structural damage or possible electrical risks. Your belongings stored in basements may be damaged or destroyed by water flooding. Here are some tips that may help minimize damage and more quickly begin the cleanup procedure.
Flood Disasters
Safety is your first consideration when it comes to flooding. Don't enter your basement if it's flooded until all electric has been powered off. The main electrical panel is probably located in your basement and may require a professional electrician to safely turn the electric off.
Backup Sewage
Sewage backup needs to be attended to as soon as possible due to sanitary issues that may cause health issues. Be sure to wear protective clothing such as gloves, eyeglasses, face mask and rubber boots if you need to enter the area.
Other Hazards
If you need to enter your flooded basement, beware that items may be moved from where they were placed due to water movement. Watch your step to avoid falling or risk slipping.
After a Flood
If you are the home owner, you should contact your insurance agent and a restoration professional. Take pictures of the flooded area and include any damaged property. Don't wait.
Flood Cleanup
A professional water damage restoration service will remove the water quickly to avoid mildew and mold buildup in your home. When it's determined you can safely reenter the flooded area, remove any damaged possessions including carpeting. This will help the drying process of the basement or flooded room. Many homes use area rugs in basement areas for a more pleasing and comfortable look. Unfortunately these rugs also absorb a great amount of water from flooding. To avoid musty smell, the water damage restoration company will clean them. If you have washable throw rugs, the restoration company can clean those also. If your flood area was caused by sewage, you may need to discard any rugs or carpets due to health issues because they may contain harmful toxins and unpleasant odors. A restoration company can advise you what to do.
Wet Furniture
Of course, the first thing is to remove the furniture from the area as quickly as possible. Find a room with good circulation or place outside, depending on the weather. It may take several days for furniture to completely dry. If your furniture has drawers or doors, remove the drawers and open the doors for circulation.
If you have upholstered furniture, professional restoration services will have the best chance of restoring it. If you have antiques or family treasures, check with professional services for restoration. Remember, water damage may contain contaminants which are very difficult to remove. Some furniture, especially upholstered, might be best to dispense with, due to cost of restoration.
A good restoration company can make sure your water or wind or fire damage is fixed right and that you're out of pocket damage liability is kept to a minimum. We've helped numerous home and business owners and they and their insurance company always appreciate our surgical approach to restoration!
About 1st Call Disaster Services
Property disaster is disastrous and emotionally unsettling. At 1st Call Disaster Services, our commitment is to helping regain your sense of security while rebuilding your surroundings. Our team members are not only professionally trained in the latest restoration technologies, techniques and procedures, they are also compassionate toward families and businesses having to endure the aftermath of a devastating situation. We are licensed and insured, specializing in all areas of property damage mitigation and our promise is to do whatever it takes to help you get your life back in order as quickly as possible.
What We Deliver…
A team of trained and certified technicians
The latest mitigation technology and procedures
A strict code of ethics
Round the clock availability 24/7
2 hour emergency response time
A commitment to save and restore property
Continual communication with all parties involved in the claim
Professional, efficient, and exemplary service