1st Call Helped The Flats Apartments in Westwood Recover From Serious Tornado Damage
Posted on: Thursday September 1, 2016 at 11:27 AM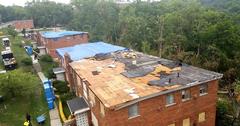 Wind and rain tore through Greater Cincinnati on July 13, 2016, knocking over trees and power lines. The storm also ripped off the roof of The Flats Apartment Buildings in Westwood.
Testimonial from the Property Manager Overseeing The Flats Apartments in Westwood
I really enjoyed working with 1st Call Disaster Services and will be recommending you to other power owners. You all did a first class job!